He not busy being born is busy dying.

~ Bob Dylan
Hey everyone! Here we are, another Monday, and another opportunity to start the week right (yes, for all of us!). I just wrapped (what is to this busy lady) a big accomplishment over the weekend, and that is the giant book that is the biography of Steve Jobs. The quote above is used in the closing few passages in the book, and it's one that I think I will carry with me for a while.
Growth being what makes our world go 'round, I can't stress enough how affirmed I am in the importance of pushing forward in this life. Time doesn't stop and neither should we, just so long as we do so sensibly, and with awareness. Living with less in all manner of ways: less clutter, less excess, less food, whatever your 'less' is…..that is what (IMHO) allows us to become free to enjoy the forward motion of our time here with more ease, and more freedom, and more energy. Letting go of the excess to make way for what really makes you tick.
Clear path. Clear vision. Clear you. Clear me. What does clarity mean to you?
Since last year, Not So Fast has been cooking with elementary school kids in the DTES here in Vancouver. Every week we meet in a fluorescent lit kitchen to chop & mash & bake & chat. We cook healthy simple foods, share stories from our weeks, and send the kids home with food and the same easy recipes. This simple act of connecting nourishes my soul (and those of my truly amazing team), and provides a means to further our mission with exacting clarity. It just feels right, and is just one small part of what we can do.
Today's recipe is one we shared with the group a few weeks back, and it's an absolute classic. I know there are a million recipes for tomato sauce out there, but here's mine (I've been making a version of this since, well, forever). I can't recall how I came up with it, but it's so easy & so good, I've a feeling it might become your favorite too (if you are looking for that sort of thing). Using pretty much straight up kitchen pantry staples, you won't find yourself without likely any of these ingredients.
The Less:
Less store-bought jarred sauces means more soul in every bowl, plate, or spoonful you produce. Fewer sugary, bottled sauces means more control of the ingredients & the quality you use. Fewer fussy, finicky recipes means adapting them into your routine with ease, and impressing those you cook for while you're at it.
The More:
More clarifying, simple soul food means more heart in the home when you want it. More classics in your repertoire means more confidence & inspiration to build on. More pasta in your belly means more filling up for pennies, so grab your favorite noodles and this sauce will make them sing.
Classic Tomato Pasta Sauce:
(2) tbsp olive oil
(1) small yellow onion
(1) tsp salt (or to taste)
(1) large tin (296 ml) of chopped or whole tomatoes (roughly chop if using whole)
(1) small can tomato paste (156 ml)
(1) garlic clove, minced or a few pinches garlic powder
(1/2-1) cup water
(1) tbsp honey
(1) tsp dried basil
Additional olive oil as desired
Start by dicing the yellow onion. Heat the olive oil in a medium saucepan and then add the onion. Cook the onion and salt, stirring, for 5-8 minutes until golden and starting to lightly brown.
Add the canned tomatoes, tomato paste, garlic, and (1/2) cup water and stir well. Cover the pot part way and bring to a simmer. Cook for 20 minutes, until the onion is soft. Add the basil & honey and stir well, add more water if the mixture is too thick. Check for desired thickness and add up to (1/2) cup of water if desired. Cook for a further 10-15 minutes over medium heat.
Serve over your favorite pasta, with or without a few chopped fresh herbs or parmesan cheese on top.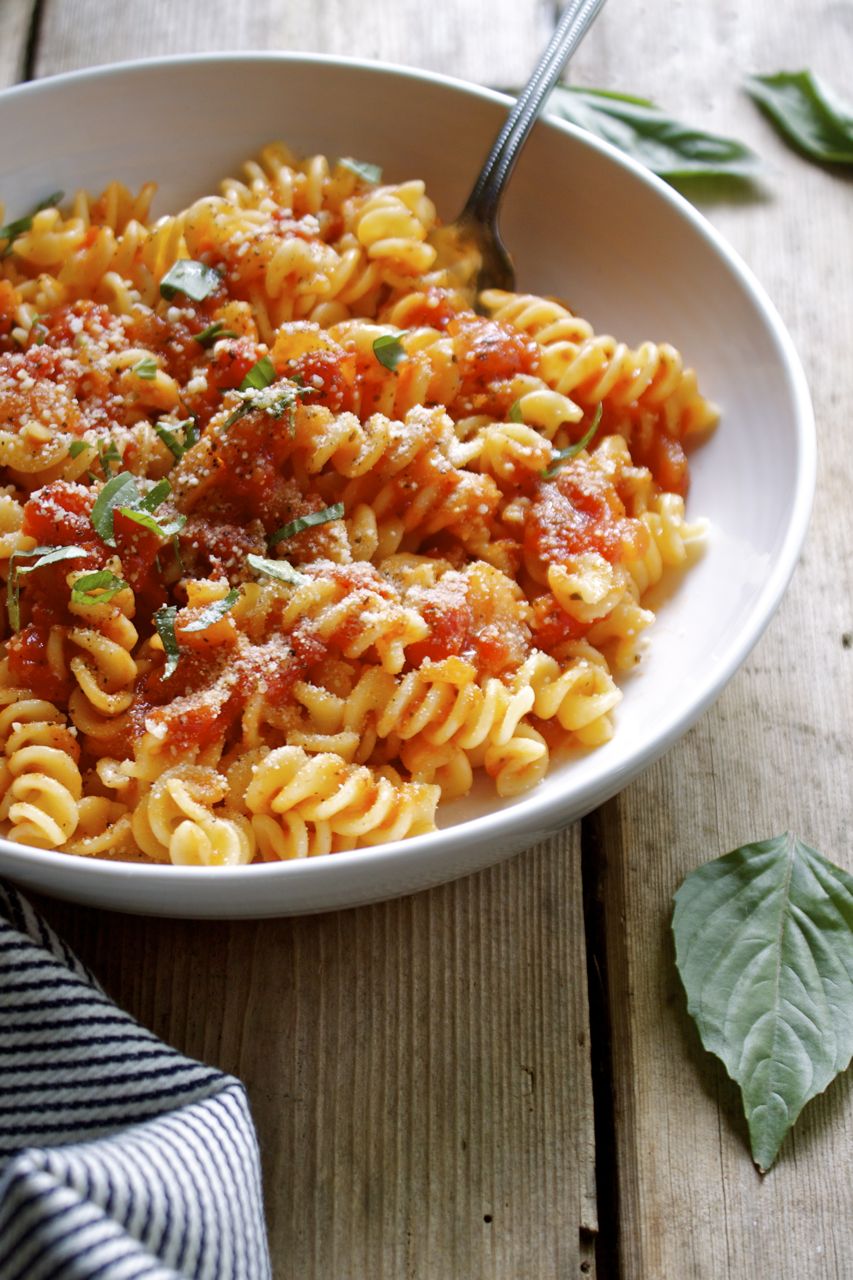 I love Mondays. A chance to plan. A chance to dream. A chance to look ahead at how to make your impact. Special thanks go out this week to those of you who left comments or wrote to me in response to my last post about healing & addiction. Being honest is tricky, and it comes with a certain discomfort, one that too many of us avoid too often. That to me is a shame, as more and more I can see clearly that the truth really will set you free.
So not that you need permission from this gal over here, but freedom is always possible, and is at any moment no more than a few words away. Use your voice. Speak your truth. Free yourself.
It is Monday after all 😉 Love to you all once again, as I find I am overflowing today. Feel it, it's for you. And that is the truth.
Yours in Less,
Related Posts: